These days they are often seen together on TV, usually as pundit and host on Match of the Day. But did Alan Shearer and Gary Lineker ever play football together? The answer may be clear to some – but for the younger generation who were not fortunate enough to see either of these great footballers actually play, it may not be so obvious.
Many of those younger football fans will probably know that these two strikers never shared the same football club. But did Gary Lineker and Alan Shearer ever play for England at the same time?
The answer is yes – although just for a very brief amount of time. Shearer was starting his international career just as Lineker's was coming to an end. 
Read on to learn more about the times they played together before we then look at which of these two prolific forwards scored the most career goals. We will then put a case forward for who we think was the better player overall.
Also be sure to check out the videos at the bottom of the post to enjoy the highlights of Shearer's England debut and a game for Newcastle in which he scored 5 goals.
Shearer and Lineker playing for England
As mentioned previously, there was an overlap between Shearer's and Lineker's international careers. They shared the pitch playing for England together on three occasions, the first being Alan Shearer's international debut against France. 
England vs France – Tuesday 18th February 1992 (Wembley Stadium)
Shearer made his first appearance for the main England team against France in 1992, playing for the full 90 minutes and getting a debut goal in the process. Lineker started on the bench but came on in the 64th minute and also managed to get on the scoresheet. 
So far, so good for this new England partnership – a mixture of youth and experience. Alan was 21 years old at the time whereas Gary was 31.
Soviet Union vs England – Tuesday 28th April 1992 (Luzhniki Stadium)
Their second appearance together for the Three Lions came a few months later when they faced the Soviet Union at the Luzhniki Stadium in what we call Russia today. This was to be the penultimate time that the Soviet Union Football Team played under this name, due to impending break up of the Soviet Union.
The game ended in a 2-2 draw with Gary Linker scoring for England but Alan Shearer only making a cameo appearance from the bench and unable to get on the scoresheet. 
France vs England – Monday 15th June 1992 (Malmö Stadion)
Their third and final appearance together was the only time they both played the full 90 minutes of a game as teammates. Once again they faced France, but this time it wasn't a friendly. It was a group stage game in the 1992 Euros, hosted in Sweden.
This time, the game ended 0-0 and with that came an end to brief partnership between these two great England strikers. 
As for England and their performance in the 1992 European Championships, they finished bottom of their group and were eliminated from the tournament. In the other two group games, Shearer was not involved at all.
Lineker played 90 minutes against Denmark and 62 against Sweden, failing to score in either game but providing an assist in the final group match against the tournament hosts. 

Overall, a very disappointing tournament for England, especially after their performance two years earlier in the 1990 World Cup. Gary Lineker would go on to retire from international football after the 2-1 loss to Sweden and England's subsequent elimination from the Euros.
But for Shearer, this was just the beginning of his own quest for international honours. 
Who scored more goals? Alan Shearer or Gary Lineker?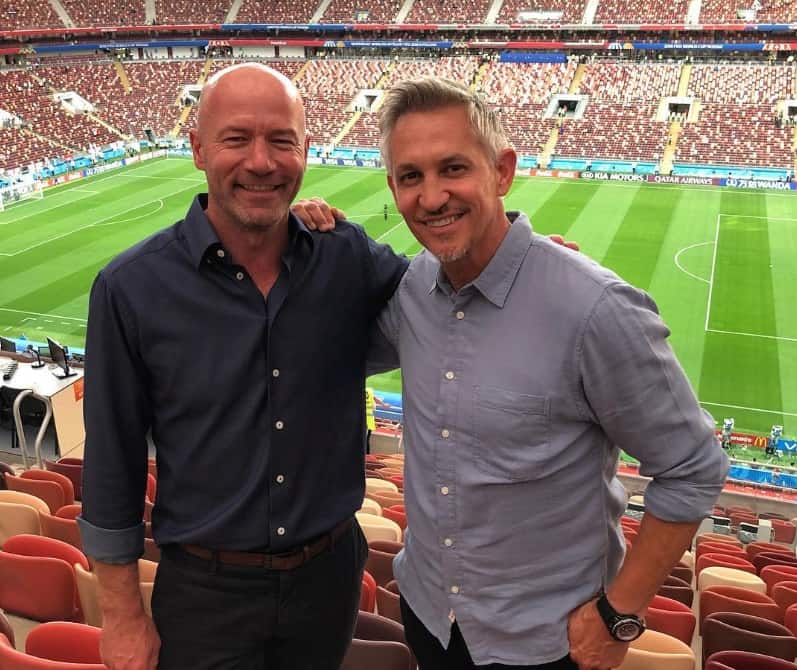 Both players are considered to be among the very best strikers ever produced by England. But who scored more goals in their whole career; Gary Linker or Alan Shearer?
Here are the stats. Please note that only appearances and goals from senior team games are counted, not youth team appearances. 
| | | | | | | |
| --- | --- | --- | --- | --- | --- | --- |
|   | Club Apps | Club Goals | Int. Apps | Int. Goals | Total Apps | Total Goals |
| Alan Shearer | 733 | 379 | 63 | 30 | 796 | 409 |
| Gary Lineker |       567        | 281 | 80 | 48 | 647 | 329 |
So it's clear from these stats that Alan Shearer comes out on top. The former Southampton, Blackburn and Newcastle United striker scored a career total of 409 goals in 796 first team appearances, including the games he played for England. He is still the Premier League's all time top scorer, with 260 goals.
Gary Lineker scored a total of 329 goals in 647 games during his senior career, including international appearances. 
In terms of goals per game ratio, both players are very evenly matched, but Alan Shearer wins by a small margin. Shearer played more games than Lineker but also has a better goals per game ratio.
Alan Shearer scored 0.513 goals for every game he played.
Gary Lineker scored 0.508 goals for every game he played. 
Who was better Alan Shearer or Gary Lineker?
Forwards are typically judged on their ability to score goals, which should put Shearer on top in any head to head comparison of the two players, especially when considering his goals per game ratio is also superior.
Gary Lineker was more of a poacher in terms of his style of play. He was there purely to score goals and he did a great job at that. Shearer on the other hand offered more to the teams he played in, beyond scoring goals – this is evident from the fact that Shearer has substantially more career assists than Lineker.
It's fair to say that Lineker had a more impressive international career than Shearer and one could also argue that by going to play in La Liga for Barcelona he challenged himself by experiencing domestic football in more than one of Europe's top tier domestic leagues. 
Alan Shearer spent the majority of his club career at Newcastle United. When he signed in 1996, the club was on the up, but after a few of years, they fell away from regularly competing at the top end of the Premier League. Despite this, he still managed to score a total of 206 goals for the club. 
With a stronger Newcastle United squad around him for the whole of his tenure at the club, who knows how many more goals he would have ended up scoring?
Videos
Enjoy a selection of videos related to this post…

Highlights of Alan Shearer's England debut against France:
Shearer scoring 5 goals in one game (vs Sheffield Wednesday in 1999):