Are you looking for things to do in Newcastle? Whether you are new to the area, here as a tourist or you're a resident – this comprehensive list should help!
Newcastle is an exciting and vibrant city with plenty of things to do during any time of the year. No matter what your interests are, you are bound to find an abundance of activities to enjoy, things to see and interesting places to visit in this fantastic city.
From visiting one of the many highly regarded museums and galleries to dining out on Newcastle's famous Quayside, you will find a variety of places to go to keep you entertained during your time here. 
With so much on offer, we decided to provide a comprehensive guide to things to do in Newcastle so people can easily make their plans with all the information they will need in one single place.
This page will be regularly updated with new activities and attractions as well as upcoming events – so keep checking back to get some more ideas of how to spend your time in Newcastle upon Tyne.
Sightseeing and attractions
See the famous bridges over the river Tyne
Newcastle is home to some of England's most iconic landmarks – with the Tyne Bridge arguably the city's most famous spectacle. But there are a total of 7 bridges spanning the Newcastle/Gateshead Quayside and many visitors to the area enjoy walking along the banks of the river Tyne to admire them.
The Gateshead Millennium Bridge is the most recent addition and is renowned for its unique tilting structure and innovative design. The other five bridges are the Swing Bridge, Redheugh Bridge , Queen Elizabeth II Metro Bridge, King Edward VII Bridge and the High Level Bridge.
If arriving to the city via train from the south of the country, you'll likely travel over the High Level bridge, which carries road vehicles on the lower level and trains on the upper. This provides a great opportunity to see the Tyne Bridge from a unique point of view and from the comfort of your train seat. 
Visit the castle in Newcastle
The very reason why the city has its name, Newcastle's Castle is a must for any tourist's itinerary – especially those who are keen to learn about the history of the area. Discover important parts of the city's past whilst enjoying some fantastic views of present-day Newcastle from the castle rooftop.
Open on Mondays as well as Thursday through to Sunday, tickets are available both online and on-site. This historic venue also hosts regular film nights in the Castle Keep, providing a unique chance to enjoy some classic movies in a medieval dungeon.
Newcastle Cathedral (St Nicolas' Cathedral)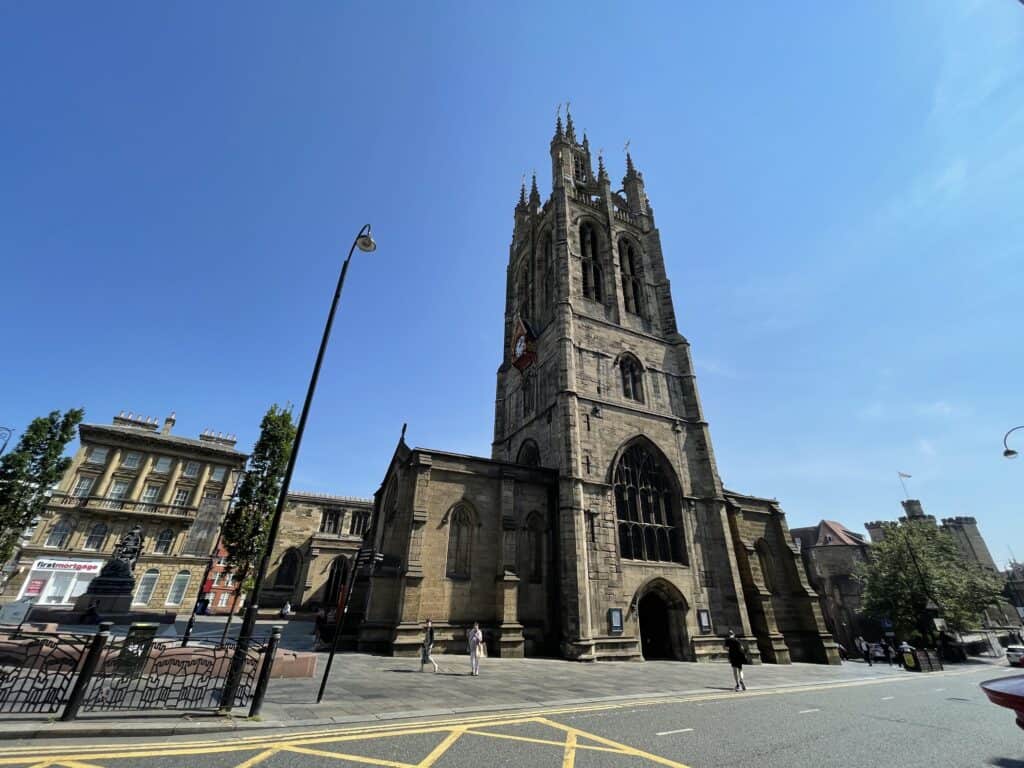 An important part of the city's history, Newcastle Cathedral (formally known as the Cathedral Church of St Nicholas) is a stunning Norman church which was originally built in 1091. After being destroyed by a fire in the early part of the 13th century, it was rebuilt to become the building which we see today. There have been several restorations since then to ensure the preservation of this iconic landmark.
Renowned for its lantern spire, intricately crafted nave furnishings and beautiful stained glass windows, Newcastle Cathedral attracts many tourists to the city and it remains an important place of worship for residents and visitors alike.
Thanks to more recent renovations, the Cathedral now has a cafe, shop and improved accessibility features. Visitors are welcome inside Newcastle Cathedral during the regular opening hours of 09:00 – 17:00 each day of the week. Special events and services are regularly hosted at the Cathedral, details of which can be found on newcastlecathedral.org.uk.
St Mary's Cathedral
St Mary's Cathedral is located just a stones throw away from Newcastle's Central Station and as a result, is one of the first notable landmarks that people arriving by train will see during their visit to the city.
This beautiful, neo-gothic style building was built in the 1840s and it has been the Cathedral Church of the Diocese of Hexham and Newcastle since 1861.
Newcastle upon Tyne is one of only a few English cities blessed with having two cathedrals. St Mary's and Newcastle Cathedral are situated close to each other, less than 10 minutes by walking.
A popular choice for tourists to the city is to create their very own mini history walking tour of Newcastle by visiting both cathedrals and Newcastle Castle in the same day, due to the fact all three landmarks are positioned in close proximity to each other.
The old city chares
If you are not from the north east, you might not know what a chare is. But Newcastle has plenty of them and taking a walk through them can be an enjoyable way to spend an afternoon, particularly during the summer months.
So what is a chare? Basically chares are narrow, medieval alleyways and the Quayside in particular is home to many of them. This excellent post by Caroline Hagan on Medium is a great place to start for those looking to learn more about Newcastle's old city chares, but getting out there and exploring them for real is of course the best way to experience them.
Town wall
Not to be confused with the popular pub of the same name, the town wall in Newcastle is another important historical site within the city centre. Constructed between the 13th and 14th centuries with the aim of keeping Scottish invaders out of the city, the town wall was around 2 miles long when it was finished.
Although much of the wall has since been demolished, it's still possible to see a substantial amount of the remains – particularly towards the western end of Newcastle behind Stowell Street.
Grey's Monument
At the top of Grey Street, considered to be one of the most beautiful streets in the whole country, stands the impressive Grey's Monument. At 134ft tall, it maintains a towering presence over the city centre and is considered to be one of Newcastle's most iconic landmarks.
The monument was built in honour of Earl Grey, the former Prime Minister of the United Kingdom who was born in Northumberland and it took less than a year to build – being revealed to the public in August of 1838.
During certain times of the year, usually between April and September, it's possible to take a tour of the monument and climb the stairs, where a fantastic, birds-eye view of the city awaits.
Grey Street and Grainger Town
A trip to Newcastle would not be complete without a walk along Britain's finest street and the Grainger Town area in which it is situated. Grey Street's stunning Georgian architecture and its adjoined cobbled lanes make for some wonderful photo opportunities. It's no wonder that it's considered to be one of the most 'Instagrammable' streets in the whole of the UK. 
It's also no surprise that this area of town is so popular amongst restaurant, cafe and bar operators. Here you will find many great dining options and places to grab a coffee or enjoy a drink with a fantastic view of the best street in the country.
Central Arcade
Located in the Grainger Town area, just off Grey Street, is Newcastle's Central Arcade. Re-built in 1906 following a fire, this stunning Edwardian shopping arcade is another hotspot for photographers, thanks to its beautiful tile work, mosaic flooring and stained glass windows.
A handful of businesses operate within the Central Arcade including Newcastle's famous music store, JG Windows – which has been there since 1908.
Angel of the North
Those heading towards Newcastle from the south via the A1 motorway or the East Coast Main Line will catch a glimpse of the Angel of the North as they approach Gateshead – but this iconic North East landmark deserves a closer and longer examination!
Many visitors to the area enjoy taking photos of this fascinating 20m tall structure, which weights 200 tonnes. But it's not just a tourist attraction – plenty of local residents also like to visit the hill in which the Angel of the North is situated on and admire this enormous masterpiece, which has become synonymous with the North East.
Every 24 hours it's estimated that around 90,000 people lay their eyes on what is believed to be the world's largest angel sculpture – thanks to it being positioned close to the A1 motorway and the scores of traffic which go up and down it each and every day.
Hadrian's Wall
Another popular attraction in the region is Hadrian's Wall, an ancient Roman fortification that was built between AD 122 and 128. The wall stretches 73miles coast to coast, connecting the North Sea with the Irish Sea. It's a popular trekking trail for keen hikers and cyclists also regularly follow this iconic route.
But you don't need to travel across the whole length of the wall to appreciate it. There are multiple sites along Hadrian's wall which attract visitors, each offering their own unique piece of history.
The English Heritage website is the best place to start to learn more about Hadrian's Wall and to make plans for your own visit. It's full of educational articles and videos as well as suggested itineraries for those keen to discover more about this incredibly important part of British history. 
Victoria Tunnel in Ouseburn
One of the most fascinating historical activities to do in Newcastle is to explore the Victoria Tunnel – a subterranean waggonway system which runs through the heart of the city. The tunnel has been open to the public for guided tours since 2008 and since then it has established itself as one of the top things to do in Newcastle, regularly featured in 'must do' lists and suggested itineraries from travel bloggers.
Construction of the tunnel was completed in 1842 and it was built with the initial aim of allowing coal to be transported efficiently to the river Tyne from the colliery in Spital Tongues.  
In the years that followed, the tunnel was used for a variety of different purposes, including providing shelter to local residents during World War II.
Food and drink
Cat cafes
Visiting a cat cafe might not be everybody's cup of tea, but it's a growing trend in the UK and Newcastle has two brilliant venues where you can relax and play with some cute kitties.
CatPawCino is situated on the Quayside and has a garden theme which brings an outdoor atmosphere, indoors. Here you will find 8 resident cats as well as a varying number of foster cats looking for a forever home. To date, CatPawCino has helped 48 rescue cats find new permanent homes and their staff are more than happy to help if you are looking to adopt. 
Mog on the Tyne is located in the city centre and is home to many gorgeous kittens cats which have been rescued or adopted from shelters and sanctuaries. The cafe regularly hosts fun events, including games nights, quizzes and even cat bingo!
The cats are not the only highlight at either venue though as visitors can enjoy a variety of drinks and delicious food items too – just like a regular cafe!
Booking in advance is encouraged at both cafes to avoid disappointment – but walk ins are of course welcome, if there's space available. 
Wylam Brewery
The Palace of Arts building in Newcastle's Exhibition Park was transformed into the Wylam Brewery and opened its doors to the public in 2016. As well as brewing a range of highly acclaimed beers, the venue is open from Thursday to Sunday each week as a place to enjoy drinks and traditional British food in the Tap & Kitchen.
Tours of the brewery itself are also available and be sure to keep your eyes open for special events including street food festivals and live music nights.
Newcastle nightlife
Newcastle's nightlife needs its own separate article, but basically, a night out on the town is a must when visiting the city, if you enjoy nightlife in general. Widely considered to be one of the best party cities in the UK, Newcastle has a huge number of pubs, bars and clubs located within the city and a number of suburbs which are also very popular hotspots for a night out.
Due to Newcastle being fairly compact, it makes for a great choice for those who enjoy bar hopping and one reason why the city is such a hit amongst stag and hen party groups. For the most part, there's little need to keep getting taxis or Ubers when moving from venue to venue – which can't be said for many of the other popular nightlife cities in the country.
Popular areas include the iconic Newcastle Quayside, which has a mixture of quality pubs, bars and restaurants as well as the 'Diamond Strip' area. Keep checking back on the Newcastle Uncovered website for a comprehensive guide to Newcastle's famous nightlife, as there's far too much to cover in this article!
Bottomless brunch
Bottomless brunch may not be something unique to Newcastle, but there are certainly plenty of venues to choose from if a couple of hours of free-flow drinks alongside your meal sounds like something you would enjoy.
For those who don't know, a 'bottomless brunch' is a deal which offers unlimited drinks alongside food from certain menu (sometimes the food is also unlimited as well). The exact offer will vary from venue to venue – but typically you will be able to choose unlimited prosecco, beers and sometimes cocktails to enjoy with your brunch/lunch.
We have a whole guide dedicated to the best bottomless brunch options in Newcastle, so go check that out to compare each of the deals available. 
Entertainment
Tyneside Cinema
Independent picture houses like the Tyneside Cinema are able to provide an experience that the big movie theatre chains are unable to replicate. With a mix of comfortable seating and a selection of films that aren't always found elsewhere, the Tyneside cinema is a great option for anyone looking to make a trip to the movies more of a special occasion that what is typically experienced at the mainstream theatres.
The fact that it is housed in a beautiful, Grade II listed building just adds to the charm that this cinema exudes and the Tyneside Bar Cafe is always a popular choice for pre and post movie drinks.
Sage Gateshead
The river Tyne is surrounded by several iconic landmarks, both on the Newcastle and the Gateshead side – with the Sage being one of the more recent additions to the list of famous Quayside attractions.
An internationally acclaimed music centre, the Sage is also regularly used to host a variety of conferences and non music events. It's unique, modern design really makes it stand out with its curved shell roof and mixture of glass and stainless steel panels.
For visitors to the area who would like to do a bit more than simply take a photo of this iconic structure, there are always plenty of events to consider attending. But it's also free to enter to just have a look around and enjoy one of the region's latest landmarks from the inside. 
Theatre Royal
The Theatre Royal is a stunning building located on Newcastle's Grey Street and considered by many to be one of the UK's finest theatres. The theatre attracts many visitors to the area and is very popular amongst local residents too, due to it consistently offering some the biggest and most sought after shows in the country.
Aside from the quality of the shows, the theatre is also renowned for its dining options to enhance the overall theatre experience.
For the latest details of upcoming shows at the Theatre Royal, head over to the 'What's On' section of their website: https://www.theatreroyal.co.uk/whats-on/
Utilita Arena
Newcastle's arena, formerly known as the Metro Radio Arena but with a new sponsor since 2019, the Utilita Arena is more often than not the place where the world's biggest starts will perform, if they come to the city.
Over the years the likes of Coldplay, Rihanna, Britney Spears, Elton John, Pavarotti, Metallica, Lady Gaga and David Bowie have all performed at the arena, which gives you an idea of the type of artists this venue can attract.
Aside from music concerts, the arena has also hosted events such as WWE wrestling, Disney on Ice and musicals, including Les Misérables.
Check out the Utilita Arena website for details of upcoming events to see if there's anything that piques your interest for when you are in town. Or, like many people, you may plan a visit to the city purely to catch a show at the arena.
Shopping
Newcastle Quayside Market
For visitors to the area and residents alike, the Newcastle Quayside Market is a popular choice when it comes to deciding how to spend a Sunday in the city. Each Sunday between 9am and 4pm, Newcastle's iconic Quayside is adorned with dozens upon dozens of stalls and independent traders.
Here you will find unique, handmade items and local products, including pieces of art, toys, souvenirs, jewellery and clothes.
The Sunday market is also a fantastic place to go if you just fancy a bite to eat – with a huge range of delicious street food options available to try, served from various stalls, carts and food trucks.
Go shopping in Eldon Square
Eldon Square remains as the city's most popular and well known shopping centre, attracting thousands upon thousands of visitors each and every day. Here you will find everything from small, independent shops to huge department stores such as John Lewis, Marks & Spencers and of course, the world famous Fenwick store.
Some other notable retail tenants within Eldon Square include Apple, Hollister, Jack Wills and H&M.
And of course, with every great shopping centre, there are plenty of places to grab some food and beverages. From a quick coffee at Starbucks to a full on meal at Chaophraya and everything you could think of in between – Eldon Square is a great place to visit for a shopping trip or even somewhere to go if you just fancy a bite to eat.
Visit the MetroCentre
Just a short distance away from Newcastle is MetroCentre – which not so long ago was the largest shopping centre in Europe. Divided into five malls (Red, Green, Yellow, Blue and Platinum), the MetroCentre has plenty to offer for those looking to do some retail therapy but also has lots more to offer.
Alongside the numerous shops, from large retail chains to independent boutique stores, the MetroCentre also has an IMAX cinema, bowling alley and amusement arcade.
Visitors are also spoilt for choice when it comes to looking for places to eat. From Nando's and Five Guys to YO! Sushi and Pizza Express to name just a few – there are dozens of eateries offering every type of food you could imagine. 
Sadly however, Metroland is no longer there. Open from 1988 until it closed for the final time in 2008, Metroland was Europe's largest indoor amusement park at one point in time. It still remains a fond memory for many who grew up in the region and really made the MetroCentre stand out as being much more than just another shopping mall.
Tynemouth Market
A trip up to the coast should certainly be on the list of things to do when visiting Newcastle and there's no better time to visit than during the weekend when the Tynemouth Market is on. Over 150 stalls line the Tynemouth Metro station platforms every Saturday and Sunday between 9am and 3.30pm.
Here you will find all sorts on offer from the friendly independent traders. From vintage clothing and handmade jewellery to antiques and locally produced treats and souvenirs – there's sure to be something that takes your fancy. 

And just like any market worth its salt, there are plenty of food and drinks options to choose from. Getting to the market couldn't be easier, due to it taking place in a Metro station. But it can also be easily reached by car or bus.
Nature and outdoors
Jesmond Dene
Jesmond Dene provides a peaceful escape from city and suburban living for residents of Newcastle and is also a popular attraction for visitors to the area. Located between Jesmond, South Gosforth and Heaton, this beautiful public park and woodland area is a great place to visit for a nice relaxing walk or a picnic, if the weather is nice.  
Pets Corner
Pets Corner is located within Jesmond Dene and has been a popular attraction since the 1960s when it opened. Here you will find a variety of animals, such as pigs, sheep, rabbits and peacocks to name just a few. 
It's a particularly popular attraction for families as children love to see and be up close to the different animals in a safe environment. Open everyday between 11am and 3pm (excluding Bank Holidays), Pets Corner is a must for animal lovers and those who enjoy nature.
Tynemouth Priory and Castle
The ruins of Tynemouth Priory and castle sit proudly overlooking the north sea and the mouth of the River Tyne. These two structures are not only impressive to look at, but they also provide a fascinating insight into the north east's coastal history. For several hundred years and up until as recently as 1956, this site was a crucially important coastal fortress, protecting the area and the greater north east region from naval invasions.
Longsands Beach
A trip to the north east wouldn't be complete without visiting one of the most highly regarded beaches in the whole world. That's right – according to the 2020 TripAdvisor Travellers' Choice Awards, Longsands beach in Tynemouth was placed in the top 10% of worldwide attractions.
Known for its golden sands and incredible views, Longsands is also a hugely popular sport for keen surfers. Those who would like to give surfing a go but have no experience can also get lessons from one of the local surf schools.
Museums and galleries
Laing Art Gallery
Founded in 1901, the Laing Art Gallery holds an impressive collection of art, mainly of British origin – including watercolours, oil paintings and ceramics. 
The gallery also regularly hosts touring exhibitions, so visitors can enjoy an ever changing display of art from all over the world, alongside the impressive permanent collection.
The Laing Art Gallery is located in the centre of Newcastle and welcomes visitors everyday between 10am and 4.30pm – however it is closed on Sundays and Bank Holidays.
Admission to the Laing Art Gallery is free – but there certain exhibitions and events for which a fee is charged. For details of all the upcoming events, check out the Laing Art Gallery website.
Great North Museum Hancock
Situated in the heart of Newcastle City Centre, Great North Museum: Hancock houses one of the largest collections of natural history specimens in Europe. 
Today, the museum boasts a range of impressive archaeological finds from the local area, elsewhere in the UK and from all over the world.
One particular highlight is the replica T-Rex skeleton which is always a popular focal point for visitors to the museum.
Admission to the museum is free and it's open everyday. 
Discovery Museum
If you'd like to learn more about Newcastle and the wider region's worldwide significance when it comes to science, then there truly is no better place to visit than the Discover Museum. Located on Blandford Square, just off St James' Boulevard, the museum hosts dozens upon dozens of fascinating exhibits related to engineering, technology, science and maritime progress.
What's especially great about this museum is that fact that it offers an interactive experience which makes the process of learning about science and technology even more fun. Many of the exhibits allow for visitors to interact with certain elements within them, to really get a better understanding of what they are learning about.
Closed on Bank Holidays but open everyday of the week, the Discovery Museum is free to enter.
Life Science Centre
Located just a stone's throw away from Central Station, the Life Science Centre is an award-winning and hugely popular attraction among those who love to learn about science. 
Here you will find numerous dedicated zones, each providing an intriguing look into a particular aspect of science – it's also home to the region's largest planetarium.
With a mix of permanent and temporary exhibitions together with regular special events, the venue has an ever changing array of interesting things to offer its visitors. 
BALTIC Centre for Contemporary Art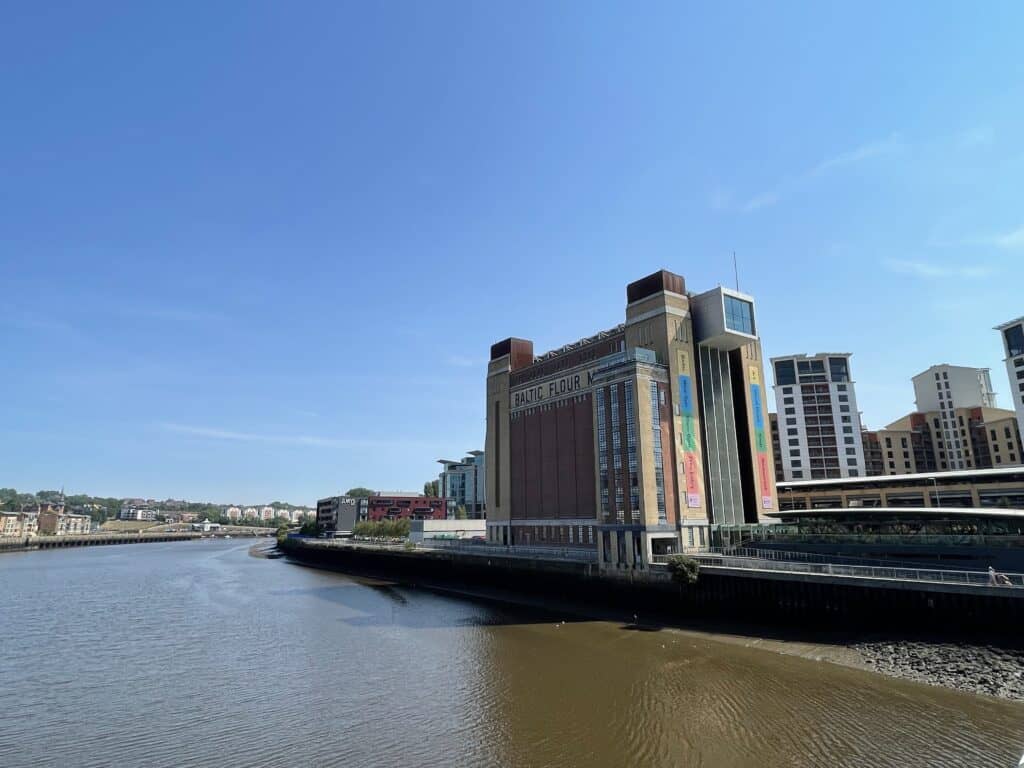 The BALTIC Centre for Contemporary Arts is one of the most exciting contemporary art venues in the country.
The centre showcases a wide variety of cutting edge work from around the globe, as well as hosting regular events and exhibitions.
It's not only a fantastic way to spend a few hours, but it's also a great opportunity to see some of the best examples of modern art in the region.
Opening times at the BALTIC vary depending on the exhibition or event taking place, so make sure you check their website before visiting. 
The Biscuit Factory
Another must-visit location for fans of contemporary art is the Biscuit Factory. This independent art gallery opened its doors in 2002 and is displays artwork from up to 250 different artists at any one time.
Set over two floors, the venue also regularly hosts special events and exhibitions, many of which are free.
As well as being able to enjoy looking at the various types of artwork on display discovering new artists, at the Biscuit Factory there is also the option to purchase many original pieces together with prints, jewellery and homeware items.
Beamish
Located in County Durham, but a popular attraction for those visiting Newcastle and the region in general, is the Beamish Museum. This is without doubt the best way to experience what life was like in the North East during several different eras such as the Georgian, Victorian and Edwardian times as well as wartime Britain.
This multiple award winning museum makes for a great, family friendly day out and an experience that is not only fun, but educational too. 
Opening hours vary depending on the time of year – so it's best to check the Beamish official website when planning your trip. You can also purchase your tickets here and find information about how to get there.
Sport
Newcastle Racecourse
Newcastle Racecourse has a number of high profile horse racing events on throughout the year – with The Northumberland Plate Festival held annually in June the most prestigious of them all. During the summer months, the venue has also been known to regularly host various non-racing events such as music festivals – so even if horse racing isn't your cup of tea, a trip to Newcastle Racecourse may still have something to interest you.
Newcastle Dogs
Newcastle's very own greyhound stadium is located in Byker, not far from the city centre. There are regular races held throughout the week and admission prices start from £6 per person for adults and children under 18 go free (when accompanied by a paying adult).
A popular venue for avid greyhound racing fans as well as group bookings such as birthday parties, corporate events and stag/hen dos.
St James' Park
Home of Newcastle United and one of few Premier League stadiums located right in the middle of the city – it's St James' Park. This impressive football ground holds over 52,000 spectators and is more often than not at full capacity whenever Newcastle United are playing at home.
If you're lucky enough to get tickets to see a game at St James' Park, it's sure to be an experience that will live long in your memory. The Toon Army are some of the most passionate football fans in the world and the atmosphere in the stadium is always electric. At each home game there is an impressive flag display courtesy of Wor Flags – with new designs regularly being created and shown with pride.
Tours of St James' Park can also be booked to gain a greater insight into the history of the stadium and the football club. But even if you are not a fan of football, it's certainly worth taking a walk past the ground to take some photos and admire the sheer size it.
If you happen to be walking anywhere within the close proximity of the stadium prior to kick off during a match day, you will be in awe of the volume of people in the area flocking to St James' Park to see their beloved team play.